"Bananas and other fruits" was published in June 2003 and officially introduced in the Castelliotissa Hall, Nicosia. The Minister of Education, his Excellency Mr Pefkios Georgiades, attended the event and briefly addressed the guests.

Guest speakers who focused on PIN's work included: Takis Kounnafis, Chief Editor of "Phileleftheros", Andreas Kannaouros, President of the Cyprus Journalists Association, and Chrysanthos Chrysanthou, a respected journalist.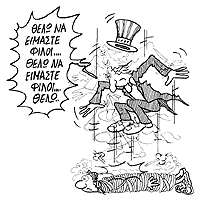 The audience included a number of officials, journalists, artists, friends, associates and other admirers of the cartoonist's work. Both the press and electronic media of Cyprus featured very positive reviews of the new book.


"Bananas and other fruits" is on sale in kiosks and bookshops all over Cyprus. Alternatively you can order the book by standard or electronic mail, to be delivered anywhere in Cyprus or abroad. Simply fill out the relevant form, and your order will be delivered by mail to your door. The retail price at kiosks and bookshops in Cyprus is £9.60.

For e-mail orders the price per copy is £8.00 plus packing and postage.
For overseas orders, the price in other currencies is indicated on the order form.
Dimensions: 21cm x 29.7cm.
Paperback cover: laminated, colour, 350gr.
Inside pages: black and white on 130gr paper.